On Fire Marketing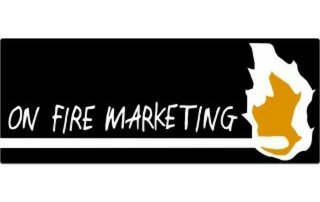 On Fire Marketing Social Media Consultants in Oldham
Set Your Social Media Alight
Is your Oldham business as successful as you would like it to be?
Are you struggling to get to grips with Social Media and Digital Marketing?
Maybe you looking for better ways to connect, engage and keep in touch with your customers?
On Fire Marketing are experts in Social Media, Content Management, Blogging and Digital Marketing and they help small businesses throughout Oldham and Greater Manchester to develop their brand voice and reach more customers online.
Social Media MOT
On Fire Marketing would love to examine your existing social media campaigns to see what is working and what is not. Offering a complete Social Media MOT, they will assess how well Social Media is working for you before making recommendations on how it could be improved.
Can't implement the changes on your own? No problem, hire the services of On Fire Marketing to do it for you.
Social Media Training
Struggling to understand Social Media and how it can work for you? On Fire Marketing will provide you with all of the tools you need to set up your social media accounts and teach you how to make the most of them.
Social Media Management
If you have no time to manage your Social Media accounts, On Fire Marketing can do this on your behalf. Working with Facebook, Twitter, LinkedIn, Google+, Instagram, Flickr, Pinterest and Snapchat, the team can be as "hands on" or as "hands off" as you like.
Writing Services
In addition to Social Media, On Fire Marketing also write promotional text providing a true reflection of your business. Whether you need help writing unique content for your website, blog post or marketing material, the copywriters can help with writing, re-writing, proof-reading and copy editing.
Why On Fire Marketing?
It's simple ….
On Fire Marketing can manage your Social Media campaigns efficiently and effectively
They are passionate about helping your business find its voice online
Their social media packages are tailored to suit your needs
You will have more time to run your business knowing that you are regularly promoting your company through Social Media.
They will never buy fans, likes or followers.
If you have no time to create or manage a Social Media in Oldham campaign, talk to On Fire Marketing today!
Get In Touch
2 Shepherd Street
Royton
Oldham
OL2 5PB
07980 399357
Visit Our Website
Email Us
Find Us
Reviews
Average Rating: On Fire Marketing - 5 reviews
Paul Sep 29, 2020
Professional and creative, good value for money and a pleasure to do business with :-)
Jenny O Jan 18, 2018
An excellent service, well researched and all round brilliant service, highly recommended
Jude G May 03, 2017
I've just attended a workshop about Social Media, full of advice and information. I've realised how big the subject is and would definitely recommend for Michelle's knowledge.
Chris S May 03, 2017
Fantastic information about Social Media that some I knew but lots I didn't...time to write some posts!
Wayne W May 03, 2017
Great presentation and very informative. Very useful and knowledgeable in all areas. Defo recommend.