Pearson Solicitors and Financial Advisers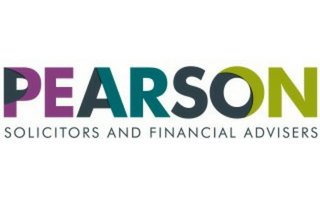 What matters to you matters to us
Pearson Solicitors and Financial Advisers are one of the North West's leading law firms offering a complete range of legal and financial services from three offices in the local area.
They provide practical, professional and supportive legal advice to both private and commercial clients.
Pearson's are a broad-based modern firm, eager to expand, embrace change and opportunity, whilst at the same time remaining proud of their Oldham roots and heritage.
Legal Services for You and Your Family
Whatever your circumstances there will come a time when you may need the help of a solicitor and the friendly team at Pearson's provide:
Family Law and Childcare – divorce, separation, child care law, finance
Wills, Trusts, Tax and Probate – inheritance tax, powers of attorney etc.
Conveyancing – selling, buying, re-mortgaging, matrimonial transfers
Medical and Clinical Negligence – call now you may be entitled to compensation
Motoring Offences – Pearson's specialist solicitor, Andrew Murray, has years of experience in representing clients in Court.
Personal Injury – no win, no fee
Employment Law – benefits, bullying, grievances, redundancy, TUPE
Disputes relating to Wills and Inheritance – removal of executors, removal of caveats, Will disputes etc.
Insurance Disputes – advice and assistance if your insurance company has rejected your claim.
Civil Litigation – professional negligence claims, breach of trust, contractual disputes
Consumer Disputes – advice and assistance on disputes arising from your activities
Housing Law – helps residential tenants and occupiers of rooms, flats and houses who face difficulties with their landlord
Reclaim Care Home Fees – assisting with compensation.
Whatever your legal problem, Pearson Solicitors work with you to find a solution.
Legal Services for Business
If you run your own business, Pearson Solicitors and Financial Advisers provide a full spectrum of services that you might require over a business lifetime.
Commercial Litigation – expert advice relating to a wide range of disputes
Corporate Commercial – company reconstructions, merger, acquisitions, company administration, restructuring, shareholder agreements etc.
Residential Landlords – drafting tenancies, enforcement/possession orders, ground rent problems, gas safety certificates etc.
Commercial Property – planning law, new build and help to buy, conveyancing, environmental law, commercial leases etc.
Employment Law –agreements, dismissals, equality and discrimination and more.
Debt Recovery – tracing debtors, creditor searches, court proceedings, enforcement and more
Pearson Solicitors and Financial Advisers appreciate that many people only need a solicitor or a financial adviser when they need help, they also know that the client experience really matters so they take time to listen and understand before helping you find the best solution.
Financial Services
The experienced team of Independent Financial Advisers are committed to offering financial advice, solutions and ongoing support to private individuals and businesses. Talk to the team today in relation to investments, savings, pensions, tax savings, income protection or other financial issue.
The law can often seem daunting, if you need professional, legal or financial advice, talk to Pearson Solicitors and Financial Advisers today.
Get In Touch
Albion House
31 Queen Street
Oldham.
OL1 1RD
0161 785 3500
Visit Our Website
Email Us
Find Us
Reviews
Average Rating: Pearson Solicitors and Financial Advisers - 7 reviews
John B Jul 12, 2021
Excellent service and really looked after us. Nothing was ever a problem, they explained the process really clearly so we knew exactly what to expect.
David P May 24, 2021
Very professional and a pleasure to deal with. They are friendly, courteous and always kept me up to date with my case.
Joanne D Oct 02, 2018
I received my deeds this morning and just want to say thank you for everything in what was not the easiest of selling and buying a property. I would not hesitate to recommend Sarah at Pearsons. Throughout the process she was always professional but at the same time human and cared and it wasn't just a job. When I eventually sell my house in a few years time I will not hesitate to use her."
Kath B Sep 27, 2018
We used the services of Pearson Solicitors to recover a Bad Debt. This has now been fully resolved in full plus all costs paid.
The Company in question were still trading but had a history of CCJs against them for non payment. I have found Pearsons Solicitors to be professional and they kept myself up to date throughout the process. As a company, we are very pleased with the result and the efficiency from Asa Cocker at Pearsons.
Mr M Sep 27, 2018
Making our Will we were made to feel at ease throughout and everything was explained in detail. We were very pleased with the service received and with Michelle Wood at Pearson Solicitors.
Kathryn M Jun 13, 2017
Excellent advice from Mr Prince on wills and LPAs. No jargon or hard sell. Very quick service when writing wills. All done and signed within the week. Would recommend.
Stephanie D May 23, 2017
Pearsons have represented my business in any legal matters, from set-up to day-to-day matters and financial advice.