Saddleworth Live: Patti Boulaye: Aretha & Me
Event Date & Times
Date: 18th October 2019 (Fri)
Time: 8 pm till 10 pm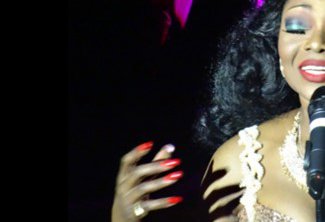 Patti will be singing some of her favourite numbers including Respect, I'd Rather Go Blind, Say A Little Prayer, Chain of Fools and Think, as well as many more lesser known Aretha songs.
Patti recently published her remarkable and moving autobiography, The Faith of a Child, that charts her riveting life story through wealth, poverty and civil war, to show-business stardom and success in Britain and her birth country, Nigeria. 2019 also marks the 48th Anniversary of Patti's West End debut in the musical, Hair.
Patti, who came to prominence as a singer winning the British ITV talent show New Faces(making history by becoming the only contestant ever to receive the maximum 120 points), was awarded an OBE for her charity work in the UK and Sub- Saharan Africa in 2016.
Bookings can be made in person, by phone or online. The box office (at Delph Library) is open Tuesdays 2pm–5pm; Wednesdays 2pm–7pm; Thursdays 1pm-6pm and Fridays & Saturdays from 9:30am–1pm. The box office telephone number is 01457 874644. Tickets must be paid for at the time of booking. You can select your seats at the time of booking. Tickets are non-re-fundable.
Location
Millgate Arts Centre
Stoneswood Road
Delph, OLDHAM
Lancashire
OL3 5DY